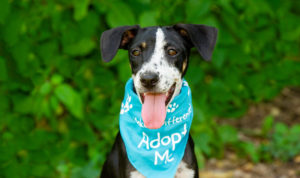 About 6.5 million animals arrive at community shelters nationwide every year, according to the ASPCA.  Approximately 3.2 million shelter animals are adopted each year (1.6 million dogs and 1.6 million cats). About 710,000 animals who enter shelters as strays are returned to their owners. One of the biggest problems facing animal welfare organizations today is the large number of animals in need of assistance.
The DeFinis and Pabody Agency is inspired by the work being done by The Adams County Society for the Prevention of Cruelty to Animals. They find good, permanent homes for dogs that were abandoned, relinquished or never reclaimed. They "provide shelter and care for lost, abandoned and abused animals, investigates cases of cruelty to animals, recommends the prosecution of persons engaging in animal neglect or cruelty, helps control animal overpopulation and educates the community about spay/neuter programs, animal wellness, and safety."
This incredible organization does not receive less than 1%  of its funding from Adams County. They rely on people and organizations looking deep down and wanting to lend a helping hand. We are confident our support will make a difference in the lives of the animals as well as the operations of the shelter!
We are committed to raising awareness for Adams County SPCA in our community and giving our customers, business partners, and anybody else that cares the ability to make an impact themselves. We will donate $15 on your behalf to our current Community Cause campaign for every person you recommend to us.