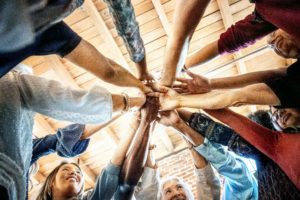 Neighborhoods scattered across Philadelphia are struggling to provide individuals with the necessary tools needed to reach their fullest potential as productive members of society. Here at The DeFinis Agency, we believe that promoting a safe environment and empowering individuals to ask for help when they are in need will not only have a lasting impact on the individuals themselves but also the community as a whole. 
As #AgentsOfChange, our priority is to provide members of the Philadelphia area with the unique opportunity to help those in need in order to cultivate a vibrant community. For the next three months, our team will join North Light Community Center, whose mission is to support and strengthen our diverse neighborhoods by meeting the evolving needs of individuals and families. 
Since opening its doors, North Light Community Center has made incredible strides to educate the public on basic community needs and create a healthy environment that promotes wellness and a culture of growth amongst its constituents. This organization exists to provide residents living in the Philadelphia area with structure through the following programs, including Emergency Assistance, several different Children Services, and a variety of College & Career Readiness opportunities. By providing these services, individuals are guided back to self-sufficiency and independent living quickly.
Wondering how you can be a part of something special and how you can make a difference in your community? Recommend your friends, family, and co-workers to receive an insurance quote from us, and we'll donate $15 for every person! They only need to receive a quote – there is no obligation to purchase. All funds raised will go to North Light Community Center to support and create positive change in our community.